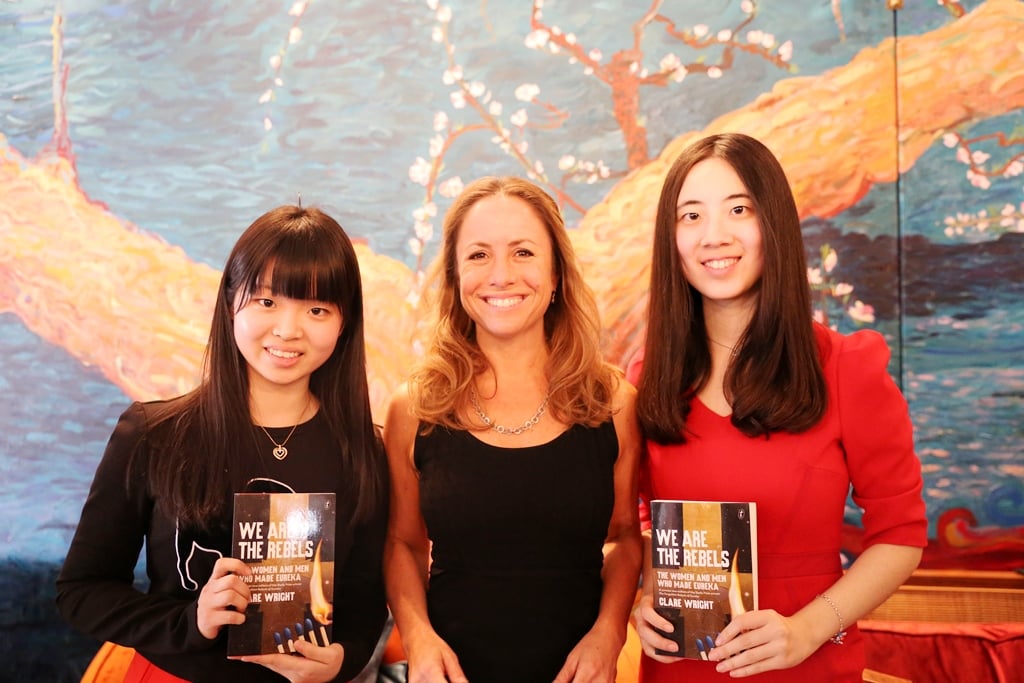 As part of the Australian Embassy in China International Women's Day and Australian Writers Week in China 2016 celebrations, two lucky female students of Australian Studies Centres in China were given the chance to attend the Mentor Walks 2016 Kick Off Walk and International Women's Day Lunch on 12 March 2016 at Capital M, which was addressed by Australian author and historian Clare Wright.
Participants told us in 300 words (in English) about a female leader who has influenced them, and why they are inspiring. Read the two winning essays below:
Wei Zhongyu (魏钟毓), Tsinghua University
During my winter vocation I attended a student conference in ROK where I met Professor Joanna Hosaniak, a real humanitarian, a social activist for North Korea Human Rights.
She opened me up with new extensions for humanitarian compassion. In her lectures, Professor Joanna enlightened me of the existence of different levels of human insecurities regarding the violation of human rights and the discrimination against sex minorities in Northeast Asia. I shall never forget the face of a North Korea woman who was nearly beaten to death while pregnant, bathed in tears and shivered in fear; I shall never forget the cry of sex minorities when they were mistreated, ostracized and condemned merely on the ground that they were different; I shall never forget how Confucianism and other gendered norms impeded social advancement in Northeast Asia and how Western stereotypes were imported and transformed human understanding.
Witnessing those sufferings, I realized that humanitarian compassion, a faculty that we share, is as powerful as a strong spiritual guide that is capable of reshaping the world. Because of her firing compassion, Professor Joanna made ceaseless efforts in promoting human rights and gender equality in North Korea, founding NGO that helped and emancipated people who used to be victims of political turmoil and social upheavals. Though fully aware of the potential danger imposed on her promising career for studying marginalized people, she still determined to hold on to the research with perseverance. She never tags herself as 'noble saver', yet embraces her innate compassion, exercises human sympathy and does whatever she can if it may change the world into a slightly better one.
Humanitarian compassion leads us to civilization, and answers to the fundamental question concerning what makes us human. Action is always driven by human passion. If not us, who? If not now, when?
Xie Chenxing (谢辰星), Tsinghua University
"The eyes of others our prisons; their thoughts our cages."
——Virginia Woolf, Writer
When I first read Virginia Woolf's short stories, this quotation imprinted on my heart. Since it was so courageous for a middle class English woman to speak out such perspective, I started to be interested in her and read a series of her novels. The more thoughts I explored in her novels, the more I admired her.
Woolf was a brave feminist, who expressed her opposition towards the male domination, which was the common value directly in her works. In Mrs. Dalloway, she created Clarissa, a housewife who had incisive view towards war and humanity. In To the Lighthouse, she created Lily, an intelligent female painter who refused to be the "Angel in the House". In A room of one's own, she even wrote that "A woman must have money and a room of her own if she is to write fiction." All these show her determination to oppose the mainstream and insist on her own pursuit of feminism. She struggled for women's right to vote, accept education and have their own separate rights of a house in her all life. Her death meant the end of an era.
Woolf's profound thought influenced my deeply. When I was in senior high school, I was a quiet and a little bit heavy girl, which meant that I was a true ugly duckling. What was even worse was that I didn't have any talent that was suitable for a girl, which made me feel inferior. I was quite tone deaf and couldn't be a good dancer. What I love was playing football, which was a little bit strange for a girl. However, Woolf's attitude changed my mind thoroughly. I didn't need to follow other's opinion, on the contrary, I could just follow my heart. Therefore, I began to try my best to practice football and finally I became a good football player. In this way, I also became confident again.
Woolf was the lighthouse in my life.