The Australian Government Department of Education is represented by the Education and Research Section at the Australian Embassy in Beijing. The Education and Research Section has overall responsibility for the department's activities in the PRC. We work with Chinese government bodies (particularly the Ministry of Education) to improve mutual understanding of policy developments in education and research, and support activities of Australian education and research institutions in China by providing advice and policy briefings on education and research developments in China. We promote Australia's internationally competitive, merit-based scholarships for Chinese students and encourage more Australian students to study in China, including through the New Colombo Plan.
Information for International students planning to or currently studying in Australia
General information
Study in Australia is the Australian Governments online source of information for prospective international students, their families and agents to learn more about Australia as a place to study.
Commonwealth Register of Institutions and Courses for Overseas Students (CRICOS) - official list of all Australian education providers that offer courses to international students.
Registered Training organisation (RTO) search portal - A registered training organisation (RTO) is a training provider registered by ASQA (or a state regulator) to deliver VET services.
Scholarships
Destination Australia Program – this program seeks to attract and support students to study in regional Australia with scholarships of up to AUD$15,000 per year available to international students seeking to undertake Vocational Education and Training or university courses (including undergraduate and postgraduate study) with eligible universities and colleges.
Research Training Program (RTP) – the RTP supports both domestic and overseas students undertaking Research Doctorate and Research Masters degrees, known as higher degrees by research. Students can apply for RTP scholarships directly to a participating Australian University.
Other scholarship opportunities are offered directly by Australian Universities and Vocational Education Providers. The Australia-China Youth Association have compiled a list of some of these opportunities here. Potential students should consult with the admissions team or international office at the provider(s) you are considering for further advice and information.
Protecting International Students in Australia
Education Services for Overseas Student (ESOS) factsheet – Australia provides rigorous protection for international students through the Education Services for Overseas Students Act 2000 (ESOS Act) and related legislation, which protects and enhances Australia's reputation for quality education.
Tuition Protection Service – The Australian Government is a world leader in protecting tuition fees of international students. In the highly unlikely event that your education provider is unable to deliver a course you have paid, the TPS will assist you in finding an alternative course or to get a refund if a suitable alternative can't be found.
Other links
Tertiary Education Quality and Standards Agency (TEQSA) - Australia's independent national quality assurance and regulatory agency for higher education.
Australian Skills Quality Authority (ASQA) – Australia's national regulator for vocational education and training, register training providers and accredit VET courses to ensure nationally approved standards are met.
Social Media
Follow us on Sina Weibo!
(Scan the following QR code on Sina Weibo or search for 澳大利亚教育官方微博)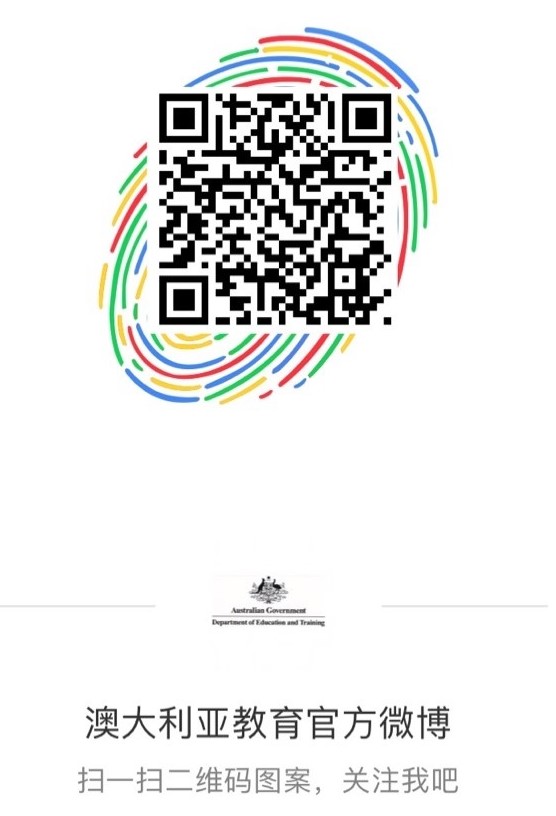 E-Newsletter
Check out what the Education and Research Section at the Australian Embassy Beijing has been up to in our quarterly newsletters
2021 Mid-year
2020 Spring Festival End of Year
2019 March Summer Edition December
2018 March May Summer Edition December
Australia's formal education and training agreements with China
MOU on Cooperation in Vocational Education and Training – signed 24 March 2017
MOU on Cooperation in Student, Research and Academic Mobility – signed 17 November 2014
Agreement on Higher Education Qualifications Recognition – signed 17 November 2014
MOU on Cooperation in Education, Training and Higher Education Research – signed 12 December 2012
Our Research Publications
Chinese – Australian Transnational Higher Education in China – joint research by the Education Research Section of the Australian Embassy in Beijing and the China Education Association for International Exchange (July 2018)
Sino – Australian vocational education and training cooperation (December 2017)
China's Education Development Thirteenth Five Year Plan – an English translation and summary of China's Education Development Thirteenth Five Year plan drafted by the Education and Research Section of the Australian Embassy in Beijing and the National Center for Education Development Research (NCEDR), Chinese Ministry of Education
The Education and Research Section also publish up-to-date short policy updates on China's education strategies and developments, click here to see more.