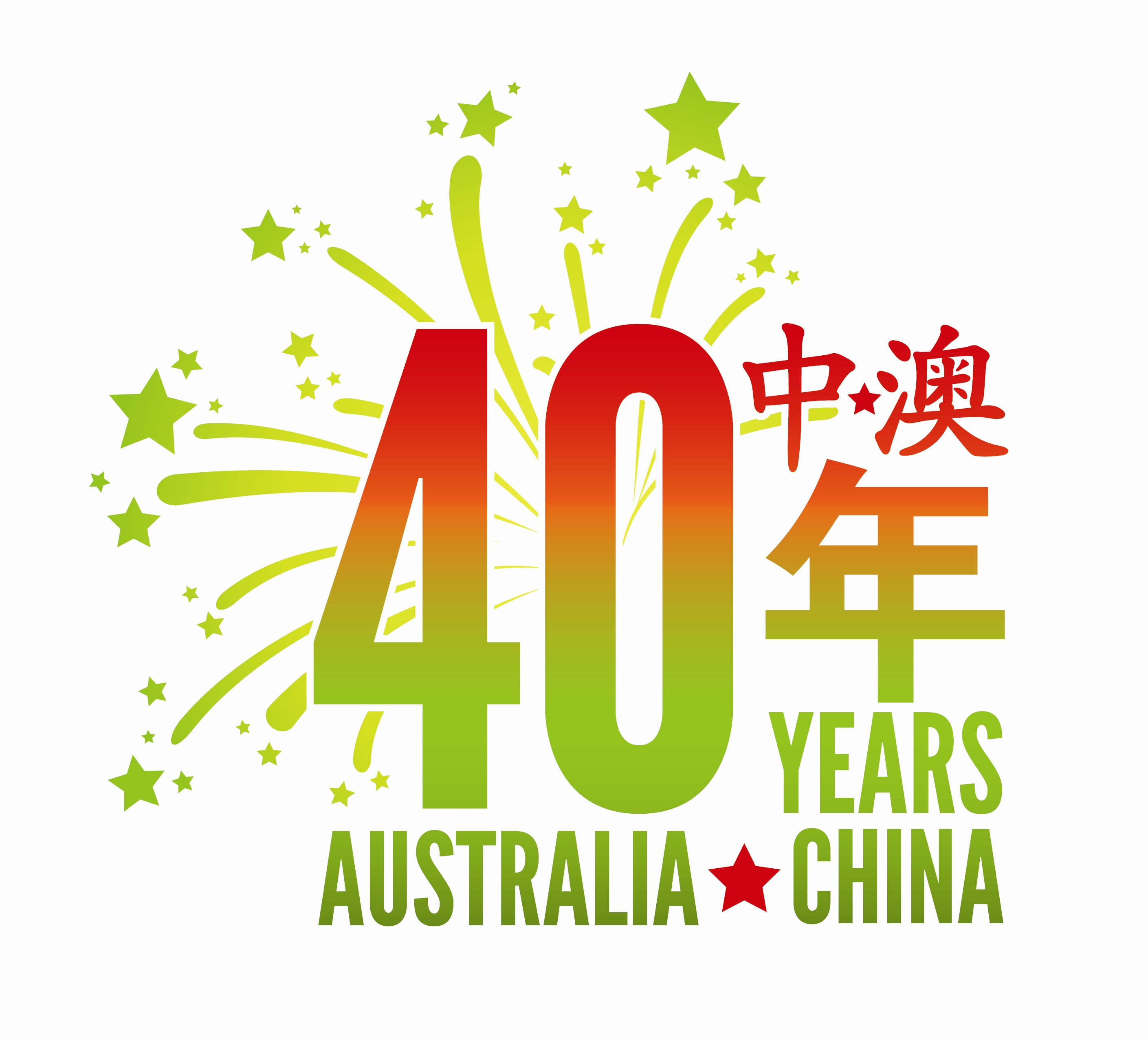 40th Anniversary
Celebrating the 40th Anniversary of Australia-China Diplomatic Relations
It is 40 years since Australia and the People's Republic of China established diplomatic relations in 1972. It is an event we celebrate because it was a foundation stone in the history of our two countries. Since that day, 21 December 1972, interaction between the people of China and Australia has blossomed in all facets of human endeavour.
Trade has grown dramatically, of course. But most important, unprecedented numbers of Australians and Chinese are visiting each others' countries for business, to study and for adventure. These people-to-people links have fostered increased understanding of our respective cultures grown from unique histories and geography.

Anniversary Events
The 40th Anniversary also invites us to reflect on how we can expand and strengthen relations between the people of Australia and China. Throughout this anniversary year, a program of events will explore the history of Australia-China relations over the past 40 years. The 40th Anniversary program also includes new initiatives that seek to ensure that the relationship will flourish over the next 40 years.
Visits by senior members of the Australian and Chinese Governments will also mark the 40th Anniversary, along with Gala events in Canberra and Beijing.
The 40th Anniversary Program reflects the breadth of the relationship.
40 Years of Diplomatic Relations; 40 Years of Change
Australia and China have both changed a great deal in the 40 years since diplomatic relations were established in 1972. On first glance, the changes in China, economically, socially, and politically, are more dramatic. But Australia is also a very different place compared to 1972. Both countries' economies have enjoyed comprehensive reform in the last few decades and seen real benefits to their societies.
The 40th Anniversary is a chance to reflect on the evolution of the relationship over the past 40 years. It is also an opportunity to build and strengthen that relationship. The Australian and Chinese Governments both share these objectives.
And both countries are looking to the future. It's a future in which economic challenges abound. Australia needs to plan for a smart economy beyond the resources boom. China is turning from its export and investment led model to an economy driven by domestic demand and a bigger services sector to underpin its continuing development. There's plenty of scope for mutual benefit beyond the resources trade. By 2020 China's middle class will number 670 million – a huge group of newly prosperous people keen to travel and study overseas. This is a great opportunity for Australia, but also for the people of both countries, to build closer relationships and a better understanding of each other's place in the world. After all, it's not all about economics and trade. Cultural and people-to-people links will continue to be the foundation of the Australia-China relationship.
In this 40th anniversary year, a range of events and initiatives will celebrate the breadth and depth of the Australia China relationship. Australia hopes to build on the achievements of the past four decades to set up a future of even closer co-operation and understanding between Australia and China and their people.

Fast Facts: How the Australia-China relationship has grown in 40 years
Trade:
Two way trade in 1972: less than A$100 million
…in 2010: more than A$100 billion
Tourism:
Chinese short term visitors to Australia in 1972: fewer than 500
…in 2000: 120,000
…in 2011: 542,000
Australian short term visitors to China in 1972: fewer than 500
…in 2000: about 92,000
…in 2010: more than 336,000
Education:
Chinese students in Australia in 1972: 0
…in 1998: 9,000
…in 2010: 167,000