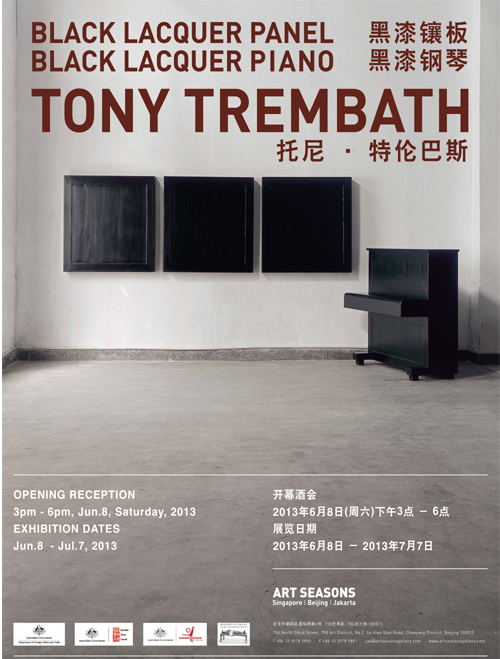 ART SEASONS Beijing and Artists Cordially Invite you to the Opening Reception of
BLACK LACQUER PANEL, BLACK LACQUER PIANO- Opening Reception
On Saturday, the 8th of June,at 3 pm
Exhibition Dates: 8th June— 14th July, 2013
Artists: Tony Trembath
In the exhibition Black Lacquer Panel, Black Lacquer Piano, Tony Trembath continues his long interest in museum practice and in particular conventions of museum presentation. His installation of 13 sculptural works constructed in wood and black lacquer is the consequence of a long collaboration in Beijing with a furniture factory. The factory specialises in antique furniture restoration and reproductions for export. They make fake antiques. While antiques are the business of museums most would prefer to have no imitations in their collections.
Although these works mainly have the appearance of Chinese table tops and all with the same black finish, they function in the gallery as generic artworks. They are reminders of conventional formats for museum paintings – landscapes and still-life, panoramas and portraits for instance or ambitious contemporary paintings. The main focus is on the interaction between these black rectangles and the gallery space itself – almost like a written document or research paper on museum presentation in the western tradition. However this could be any exhibition in any museum or gallery, in any country; the works serve only as a reference and draw on our memory or experience as gallery visitors.
Now with the actual content as "paintings" removed, these black lacquer panels can "speak". They speak of the relationship of artworks with the architectural space that displays them; they speak of the conventions and language of hanging and the consequent interaction between adjacent or near works; they speak of the importance of proportions and exact placement in this tradition; they speak of the curator behind the white walls, and they present a cross-cultural dialogue which can only draw on the unique personal experience of each viewer. It is an ambition of Black Lacquer Panel, Black Lacquer Piano that in the process of looking, new pathways and new experiences may evolve. And if none of this happens or maybe after it happens, the dense black works have a stillness that in itself should be enough.


________________________________________

For more information or press enquiries, please contact Adele Zeng at [email protected] or +86 (010) 5978 9850